You can't surf the latest eco-friendly blogs these days without being bombarded with stories about corporate greed, dangerous working conditions in warehouses, laborers being exploited and the environment being stripped. It is a depressing part of big business that has left a bad taste in many mouths.
For those who want to find a way around this, there are not a lot of options. Many people buy second hand, but this still provides limited products on hand. Fashion lovers will be especially depressed with this method, as they can't keep up with the trends of today without paying for it by supporting the corrupt businesses of tomorrow.
Luckily, there are some organizations out there concerned with both fashion and the environment. These cruelty free, eco-friendly items have been made with recycled materials and offered free trade. They promote work for the needy, and reduce waste while giving you the latest looks that you will be sure to love.
Here are five Facebook pages for these brands.

A team made up of independent designers and consumers, this organization is dedicated to providing projects for an American workforce, buying and selling in the USA in the face of increasing globalization in business.
They deal only in small amounts of materials that provide just enough to launch a line, rather than in bulk buying where materials go to waste. They are also in the process of creating the Triangle Renegade Coop.

Preloved Apparel is still in its launching phase. After regrettably losing a competition on media platform Yoxi, they are seeking additional means of support and financing.
Their mission is to eliminate waste in the fashion industry. They have big things planned, and are worth keeping an eye on for future developments. They have a link to their official site on their Facebook profile that you can check out.

This organization is dedicated to "Fasion Under Deconstruction", which they describe as the process of changing the perception of the average consumer.
They aim to do this by trimming waste while showing how clothes are made. It is run by Bilge Koprulu, Nesli Kaplan and Hulya Aktun, three designers who are still working on getting funding for their project.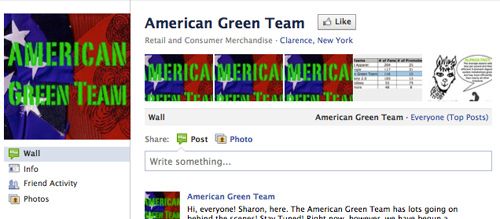 Based on the name, you can probably guess that this group is working a "made in America" angle. One of the biggest blows to the country's economy (or any country's economy) has been outsourcing overseas.
American Green Team promoted buying local materials and making local products to be sold without imports or exports. They are also looking to cut waste in the fashion industry as a whole.

Probably the most popular group on the list, Trudy Miller Layers is a companion to the larger Solutionista.com. It sells high quality, reused material clothing to women of all sizes, using only the amount of fabric needed for simple, trendy clothes.
They specialize in convertible items, where the sleeves can be removed or lengthened, the hem can be stretched or the piece can be easily expanded in the case of pregnancy or weight gain. All of their pieces are based on a simple design, which can go under layers to change up your outfit.
There is a lot we can do to be both fashionable and eco-friendly. These Facebook pages are all a good place to start, so 'Like' them today!
Guest Post by Jessy Troy, a lifestyle blogger for Life Insurance Finder, the free life insurance comparison utility based in Australia.